All Photo Credits go to Dewitt for Love Photography
Florals by Ever After Vintage Weddings
Hair and Makeup by Bella Ti Artistry
Dress from Nikki's Glitz & Glam Boutique
Venue The Red Mesa
The beauty of wedding planning is that its your special day and you can do what you please with it. This styled shoot is a great example of that, the bold use of color and texture is executed to perfection and we expect nothing less form Ever After Vintage Weddings. They just get it right every single time its a reason we love working with them. I know that whatever we see next is always better then the last time. This colorful, playful, 70's vibe styled shoot was another fabulous example of what they can do. Lots of rich texture and bold colors come together to make this shoot bright and playful. It was a great vibe that translated so beautifully in the photos.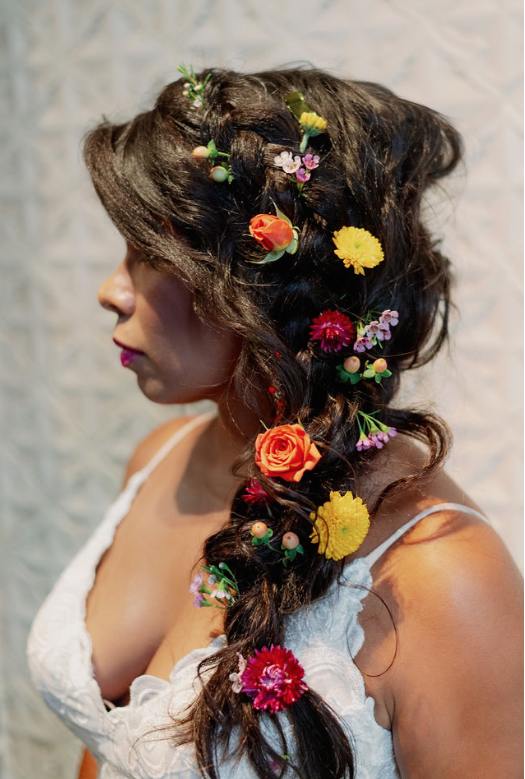 Bella Ti Artistry did an amazing job on the models hair and makeup. The stylist really captured the playful flower child vibe with whimsical hair and cheeky hot pink lip. The pops of color are vibrant and gorgeous and give the bride a vintage quirky look the shoot was asking for. We love a bold choice and they stylist took the theme and ran with it. The look is stunning and fun and not something you see on the everyday bride. It's far from traditional thats for sure.
Picking the gown for this shoot was a breeze because when I was told the look everyone was going for the perfect dress appeared in my head and nothing beat it. We tried on a few but the gown we sued for the shoot was perfect. It looks like a dress from another time. The shaped hem and details in the lace screamed flower child. I couldn't have asked for a more perfect wedding gown. It was interesting and beautiful and just the right fit for the shoot.
The Red Mesa Cantina features so many picturesque spots and this styled shoot was a great way to show off its versatility.
Xo,Nikkis