There are times in our lives when the stars align and everything just falls into place. It couldn't be any more perfect then the day I met Morgan. It was alteration's day and I was running around the store making sure everyone was taken care of and happy, as well as pulling together last minute details for a shoot I had been trying to put together. Most of the details were taken care of but I was struggling to find models for the shoot. When I walked into alterations to check on Morgan I was in awe of how pretty she looked in her dress. It was such a grand ballgown that I just knew her wedding day was going to be fabulous. So when
I asked Morgan where she was getting married I was taken aback. Due to Covid she and her husband to be Mike had to cancel their original plans for a big wedding. My heart went out to her she was all dressed up and no where to go almost. While Morgan and Mike still planned on getting married in a beautiful church ceremony there would be very very few witness's and their families were unable to attend as it would be unsafe. She looked incredible in her Mori Lee princess gown and it was a perfect fit for the Styled Shoot venue BellaCosa Lakeside. I asked if she and her Fiance would be interested in doing a styled shoot with us since the wedding they were dreaming of wasn't going to happen.
(Hair and Makeup by Destiny and Light)
Destiny and Light's Priscilla made
Morgan look even mor stunning than she already is for this shoot. With her royal updo and flawless makeup. Priscilla pays such attention to detail you can see the passion she puts into making her b rides look and feel beautiful she is such a great artist to work with. Its obvious why she's at the top of her field and called the queen maker at that.
The day of the shoot started off rainy but I was so sure that the rain wouldn't stop it from being a fabulous day for all of us!
We had so many amazing vendors help make the shoot a success and I couldn't have dreamed of a more beautiful day. Blue Skies Events and Weddings made the day go by not only smoothly but beautifully. Every last detail was accounted for and executed to perfection.
The Florals for the styled shoot were textured dreamy and abundant! Ever After Vintage Weddings did an amazing job. I was beyond impressed at the florals for this styled shoot. The entire estate smelled of fresh beautiful flowers it was amazing. They truly speak for themselves. We love supporting other vendors in our industry and Ever After Vintage Weddings worked hard on making these arrangements look like a dream come true. Everything was a great mix of textures and length, perfectly imperfect!
Heather from Blue Skies Wedding and Events is fabulous to work with and to top things off she got a horse from Orlando Horse and Carriage! Blue stole the show for a little while he was a sweet boy and so gentle ! Our bride and groom were troopers working so well with him ! I couldn't have asked for a more perfect day and such great people in the industry to work with.
Someone's smitten and its not with the groom! But who can blame her Blue is the sweetest horse so calm and patient, a joy to work with. He demands attention and was truly the perfect horse for this shoot! Doesn't every happily ever after always have a white horse ?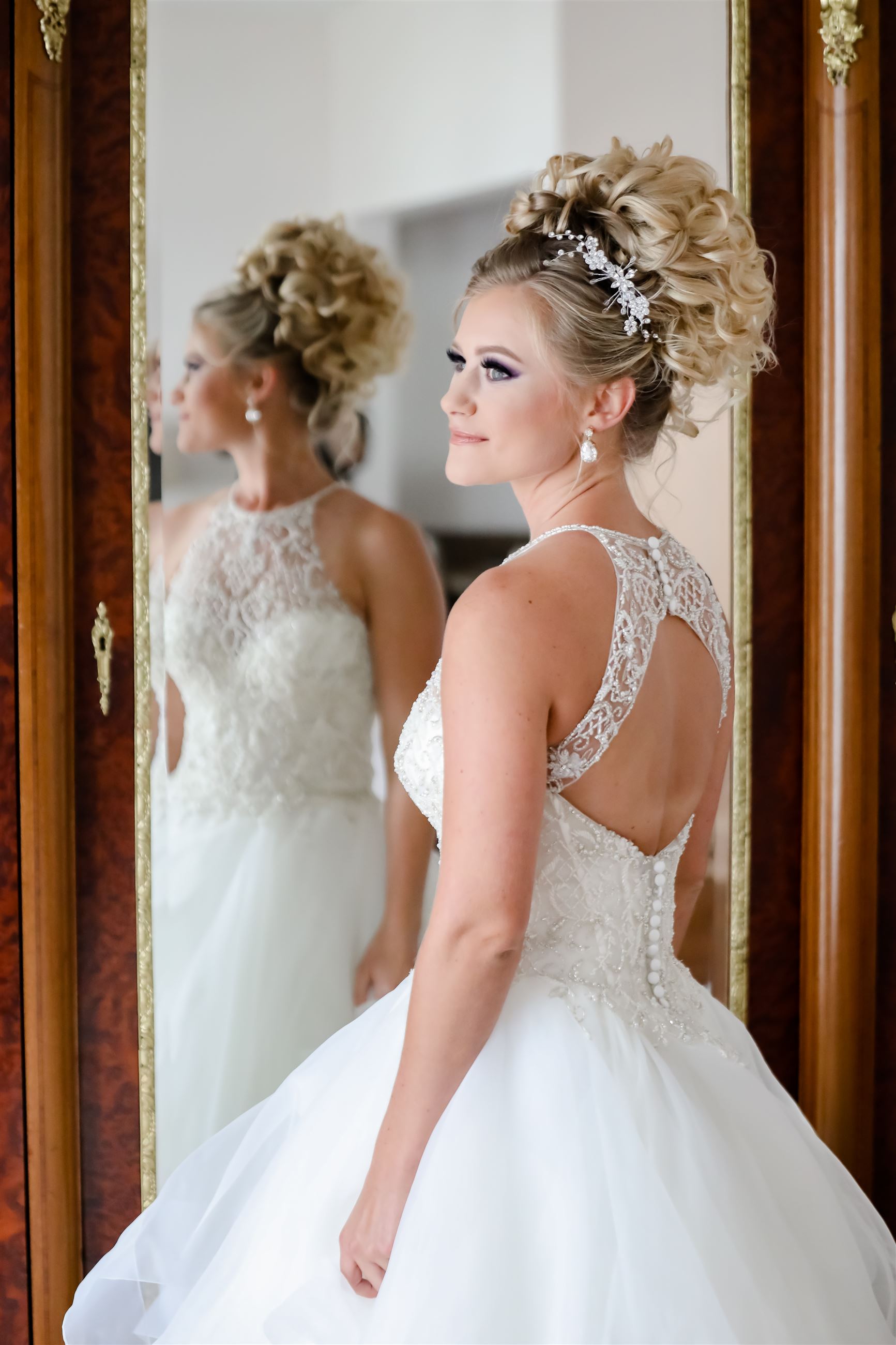 In a time of postponed weddings, funerals and multiple let downs then anything else this shoot brought so much light into our lives. Morgan and Mike are so in love and all of the vendors really love their field and it showed.We couldn't have asked for better results then the ones we got !
Webster media did an amazing job getting all the footage for a wedding video that not only captured their love but also the beauty of the venue and the magnificent florals. Frank was a joy to work with he worked around the photographers with practiced ease. Watch the video here. The day was moody and gray and perfect for the vibe we were all going for the shoot was truly a dream come true. The history of the venue is tangible as you drive up to it. Its truly a hidden gem its a piece of history tucked away in the country side.
Every detail was perfect.